Gevo Excellence in Electronics
We provide circuit schematic design, printed circuit board layout services, firmware development, prototypes and Electronic manufacturing services (EMS) for microprocessor-based embedded electronic controls for OEMs. We are actively working on, developing for, and supporting many different platforms, from user's industry standard ones to custom solutions. Over the years we have gathered extensive knowledge and hands on experience in both hardware and software fields, using mainly microcontroller devices from Microchip Technology Inc, boosted with strong and reliable firmware coding using high level compilers.

Specialized in digital data communications protocols, RFID, USB, WiFi, IoT (Internet-of-Things), Micro-Controllers combining our level of expertise founded in long years of experience with state of the art components and softwares allows us to produce solutions with smaller form factor, economical and marketable.
Microchip Authorized Design Partner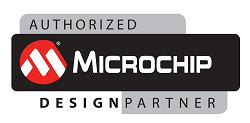 Copyright © 2000-2015 Gevo ® - All rights reserved